Dustin-Leavins.Info Blog
Posted on
After playing through Trials Rising's Sixty Six expansion, I had low expectations for the Crash & Sunburn expansion. But I'm pleased to say that Crash & Sunburn is solid as a whole and contains some of the best content that Trials Rising has to offer.
Crash & Sunburn features plenty of interesting locales to ride through. One set of tracks take place on a cruise ship (a really, really long cruise ship…), and individual tracks take place at waterfalls, mines, an active logging site (of questionable legality), a coastal playground that looks like a course in Wipeout (TV show), and even a landfill. Most of the tracks are nice to look at - the landfill looks like a dump. It's a nice improvement over the Sixty Six expansion - its tracks tended to look similar to each other.
The tracks are fun to ride through. I completed every track, but I won't complain about the lack of difficulty this time: the last set is fairly tough. Crash & Sunburn does not get as difficult as the base game, but it's tougher as a whole than the Sixty Six expansion.
If you're a Trials player who wants to get to the most difficult tracks quickly, I have good news for you: I had to beat a single level in each league to move on to the next. I'm not sure why this happened (you usually have to beat all three tracks in the Stadium Finals), and it may have something to do with my level (100+), but it was a cool thing that happened to me.
The expansion grants access to two new bikes. The Alpaca has two-wheel drive. It's not just front-wheel drive as it has an hilariously weak rear wheel that is unusable by itself. The overall speed of the Alpaca seems to match that of the Helium (bicycle). The Turtle has a roll cage. You can use both on levels outside of the expansion - no need to worry about a Trials Evolution situation where they locked the bicycle to one of the expansions. I view these two bikes as fun bonus content for buying the expansion - they are fun for a track or two, but I do not want to regularly use either one.
The expansion comes with four skill games: Speed Demon, Pinball Wizard, In the Dark, and Rocket Man. The highlight of the set is In the Dark - the lights in the track slowly dim, and you have to touch glow-in-the-dark platforms to turn the lights on. The other three games are fun, but they seem very similar to skill games from previous entries in the Trials franchise.
A set of cosmetic items round out the contents of the expansion. I didn't use any of them, but that's because my Trials rider already looks perfect: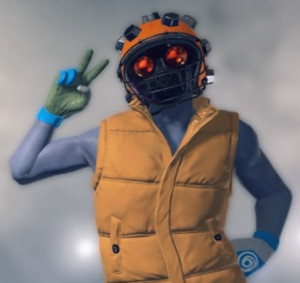 I think that the Crash & Sunburn expansion is worth the $11.99 asking price, but only for dedicated fans of the series - I got an appropriate amount of enjoyment out of it - but it is a fairly steep price for what amounts to a solid pack of tracks, a few skill games, some cosmetic items, and two bikes with gimmicks.
But the Crash & Sunburn expansion is part of Trials Rising's Expansion Pass (which itself is included in Trials Rising Gold Edition). Both the Expansion Pass and Gold Edition go on sale (I don't think that the individual expansions do), so I highly recommend buying this expansion as part of one of those packs when they go on sale.
---
Here's my review for the main game: Trials Rising Review (PlayStation 4).
Here's my review for the first expansion for Trials Rising: Trials Rising - Sixty Six Expansion Review (PlayStation 4).
Posted on
I recently discovered Funky Corner Radio, and it quickly became one of my favorite radio stations to listen to. Here are 50 reasons why you should listen to it:
FCR is a radio station that is dedicated to funk, soul, R&B, and 70s Disco
It's proudly run by "Italian Funky Lovers"
They focus on music made by black musicians…
…but they've played the Bee-Gees at least once since I've started listening…
…and I've heard a few songs from Japanese musicians on there.
It has multi-cultural, international appeal. Their website is in English, Italian, and Japanese.
They're playing The Isley Brothers as I'm typing this reason.
They have a block dedicated to Studio 54 and the history of dance music.
They named that block "Studio 54 - The History of Dance Music" so you know exactly what it offers.
They focus on music made in the 70s and 80s…
…but they occasionally play newer music to change things up a bit.
The station features an excellent rotation - it's uncommon to hear the same song twice in a week.
Exception to the rule: you'll hear repeats during their Top 100 Songs block. It's great to listen to that block if you want to hear familiar music.
The top 100 songs that play during that block are seriously great.
During their Soul Funky Passion block, they highlight deeper cuts and rarities.
You should listen to Funky Corner Radio if you like Prince - they play his hits, album cuts, and live material on there.
A regular music block of theirs is Philly Sound Show - nothing but music from Philadelphia.
Whenever they play something from Stax Records, they let you know.
That's a good thing because their Stax Records selections are always fantastic.
They play with limited commercial interruptions - there are a few commercials every 30 minutes or so.
They have a block of music that I haven't seen or heard them promote. "Mellow Storm" comes on at 5:00 PM on weekdays (maybe not Wednesdays?) and transforms the station into a "Quiet Storm" format. They start playing Brian Culbertson and such.
They played Teddy Pendegrass's version of "Love T.K.O." during that block and I was absolutely stunned. I've heard Reuben Studdard and Fourplay's version of the song, and that was great, but nothing beats Teddy Pendegrass's take on it.
On Sundays, they play Clive Brady Jazz, Funk and Soul Show. It's a syndicated show featuring a live DJ, and it's a fun listen.
Their logo is in the style of a vinyl record label. Probably a 12" due to the style of the logo, if I had to guess.
You should listen to Funky Corner Radio because I said so!
Their station IDs are endearing. They usually feature computer-synthesized speech and never annoy me.
It's named Funky Corner Radio.
"Funky Corner Radio" is a name that describes the station very well.
The flow between songs is usually excellent.
As I'm writing this reason, they're playing a song from The Persuaders.
I'm not familiar with The Persuaders, but that's cool - I've heard a lot from artists that I wasn't aware of on this station.
This station inspired me to look more into black music made in the 70s and 80s, and I've listened to albums from Teddy Pendegrass and The Three Degrees as a direct result of hearing them on Funky Corner Radio.
It's given me a newfound appreciation of Cameo.
They occasionally play reggae. It's usually Bob Marley or Jimmy Cliff.
There was that one time that they played "Don't Worry, Be Happy" and it was mysteriously attributed to Bob Marley. Hey, even professionally run radio stations can label songs incorrectly. Last time I checked, 99.5 ROCK lists Rush's "Closer to the Heart" as "Closer to Your Heart"
You should listen to Funky Corner Radio just for the funk of it.
They sometimes play rap. I've heard LL Cool J on there.
They also played Childish Gambino one time on Soul Funky Passion. Just when you think you have the station figured out, they throw you a curveball.
You'll regularly hear music with excellent, catchy basslines.
They're on 24/7.
Their online radio stream is more reliable than many that I've tried.
Someone reads the time (Central European Time Zone) at the top of the hour every hour. It's helpful to know this because their music blocks start at the top of the hour at scheduled times of the day.
I love 80s R&B for some reason I can't quite put my finger on, and they play plenty of it on Funky Corner Radio.
They play plenty of Parliament, Funkadelic, George Clinton, and Bootsy Collins.
They play music that is old enough to be originally released on 45 RPM records. (Get it?)
The audio quality is excellent…
…and so is the music quality.
You can tell others that you're listening to Funky Corner Radio. They'll immediately know what's up.
You can listen to it through Shoutcast, TuneIn (and your Sonos), on their website, and on dedicated apps for just about any device that you have. It's very easy to listen to Funky Corner Radio.
You should listen to Funky Corner Radio to play the (completely unofficial) drinking game. Take a shot every time a song has "funk" in the title, and take two shots every time a band has "funk" in their name.
Have a listen at Funky Corner Radio!
(You may not want to play Funky Corner Radio over speakers at your workplace. Some of the songs get freaky.)
---
Updates:
5/31/2020 - Funky Corner Radio started running ads sometime in April, so I changed item #20, which was "They're ad-free and supported by listener donations."
Posted on
If you dig my work, that's excellent! There are a few ways to follow my activities out there.
RSS Feeds
Let's say, for a moment, that you want to know when I publish an article. One way to stay up-to-date is to subscribe to one or more of my RSS feeds.
Step 1 - Get a Feed Reader
First, you need to get a Feed Reader.
On desktop, I like Feedbro. It's a Firefox and Chrome browser extension that provides feed-reading capabilities.
For Android, I've used Just Rss for a bit and I like it.
On iPhone and iPad, Feeddler looks good, but I haven't used it. I'm not sure if it supports importing feeds.
If you're into using a website to read feeds, people seem to like Feedly as far as online services go.
Step 2 - Add My Feeds
The next step is to add my feeds to your reader. Many feed reading programs support an 'Import from OPML' option. Just download this OPML file and import it. You should be set and ready to see my latest posts no matter where I make them.
If you just want to follow a specific site, each of my blogs also has a link to its own feed.
Other websites have RSS Feeds too - maybe your favorite site offers it. Sites that offer RSS Feeds will often show this icon:
They may also have a link that says "Feed".
GitHub
If you're interested in my open source contributions, head over to dustinleavins @ GitHub.
The Future
I'll keep this article updated with where to find me online.