Trials Rising - Crash & Sunburn Expansion Review (PlayStation 4)
Posted on
After playing through Trials Rising's Sixty Six expansion, I had low expectations for the Crash & Sunburn expansion. But I'm pleased to say that Crash & Sunburn is solid as a whole and contains some of the best content that Trials Rising has to offer.
Crash & Sunburn features plenty of interesting locales to ride through. One set of tracks take place on a cruise ship (a really, really long cruise ship…), and individual tracks take place at waterfalls, mines, an active logging site (of questionable legality), a coastal playground that looks like a course in Wipeout (TV show), and even a landfill. Most of the tracks are nice to look at - the landfill looks like a dump. It's a nice improvement over the Sixty Six expansion - its tracks tended to look similar to each other.
The tracks are fun to ride through. I completed every track, but I won't complain about the lack of difficulty this time: the last set is fairly tough. Crash & Sunburn does not get as difficult as the base game, but it's tougher as a whole than the Sixty Six expansion.
If you're a Trials player who wants to get to the most difficult tracks quickly, I have good news for you: I had to beat a single level in each league to move on to the next. I'm not sure why this happened (you usually have to beat all three tracks in the Stadium Finals), and it may have something to do with my level (100+), but it was a cool thing that happened to me.
The expansion grants access to two new bikes. The Alpaca has two-wheel drive. It's not just front-wheel drive as it has an hilariously weak rear wheel that is unusable by itself. The overall speed of the Alpaca seems to match that of the Helium (bicycle). The Turtle has a roll cage. You can use both on levels outside of the expansion - no need to worry about a Trials Evolution situation where they locked the bicycle to one of the expansions. I view these two bikes as fun bonus content for buying the expansion - they are fun for a track or two, but I do not want to regularly use either one.
The expansion comes with four skill games: Speed Demon, Pinball Wizard, In the Dark, and Rocket Man. The highlight of the set is In the Dark - the lights in the track slowly dim, and you have to touch glow-in-the-dark platforms to turn the lights on. The other three games are fun, but they seem very similar to skill games from previous entries in the Trials franchise.
A set of cosmetic items round out the contents of the expansion. I didn't use any of them, but that's because my Trials rider already looks perfect: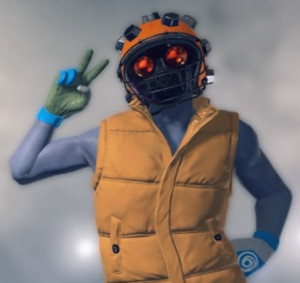 I think that the Crash & Sunburn expansion is worth the $11.99 asking price, but only for dedicated fans of the series - I got an appropriate amount of enjoyment out of it - but it is a fairly steep price for what amounts to a solid pack of tracks, a few skill games, some cosmetic items, and two bikes with gimmicks.
But the Crash & Sunburn expansion is part of Trials Rising's Expansion Pass (which itself is included in Trials Rising Gold Edition). Both the Expansion Pass and Gold Edition go on sale (I don't think that the individual expansions do), so I highly recommend buying this expansion as part of one of those packs when they go on sale.
---
Here's my review for the main game: Trials Rising Review (PlayStation 4).
Here's my review for the first expansion for Trials Rising: Trials Rising - Sixty Six Expansion Review (PlayStation 4).