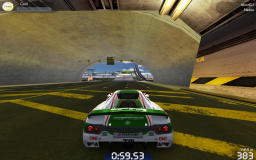 Sounds like a game from Capcom, but TrackMania United Forever Star Edition is actually from Ubisoft and Nadeo! I'm just going to call it TUFSE.
Most racing games these days are kart-style (Mario Kart, Sonic & Sega All-Stars Racing) or simulation-style (Dirt, Forza, Gran Turismo). TrackMania games are arcade-style. There are no green shells or driving assist systems in TUFSE, just pure racing.
Be sure to leave the steering wheel at home: this racer plays best with a gamepad.
TUFSE (say it loud and proud) has 7 vehicle types (all drive differently), tons of tracks for each vehicle, and numerous medals to earn. There's also a track editor and countless user-created levels. TrackMania fans insanely devoted and put crazy intros, custom graphics, and custom music in their levels.
If you think TUFSE might interest you, there's a free version (known as "TrackMania Nations Forever") with a single car but countless levels.
TrackMania United Forever Star Edition on Steam
TrackMania Nations Forever (Free) on Steam
(I do not claim any copyright on the above screenshot)